This article needs the latest image.
Reason: "Gen V image in use".
Hurricane is a Flying-type move introduced in Generation V. The user creates monstrously strong winds that surround the opponent that may leave it confused. It never misses in heavy rain, but has 50% accuracy in intense sunlight. It is also one of nine elemental moves that do the same damage, 120 HP, consisting of Fire Blast, Hydro Pump, Gunk Shot, Focus Blast, Blizzard, Zap Cannon, Power Whip, Hurricane and Megahorn.
Effect
Hurricane deals damage and has a 30% chance of confusing the target. It can't confuse a target that has a Substitute. Hurricane can hit non-adjacent opponents in triple battles. Hurricane can hit a Pokémon during the semi-invulnerable turns of moves such as Fly, Bounce, and Sky Drop.
In battle
Description
The user attacks by wrapping its opponent in a fierce wind that flies up into the sky. It may also confuse the target.
Learnset
Generation V
By Leveling Up
Generation VI
By Leveling Up
Trivia
Gallery
Hurricane depicted in the anime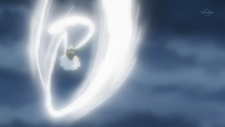 Tornadus using Hurricane