Humilau City
セイガイハシティ
Seigaiha City
"

表すは 穏やかな 海

"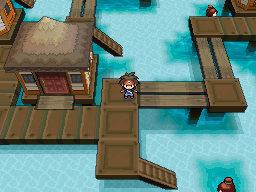 Humilau City
(Japanese:
セイガイハシティ
Seigaiha City
) is a city located in northeastern
Unova
. Here, the
player
can challenge the eighth gym of Unova and battle its
leader
,
Marlon
. This is also the place where you can trade in yellow shards for moves taught by the move tutor. It is connected to the
Marine Tube
which connects to
Undella Town
.
Gym
Main article: Humilau City Gym
Humilau Gym Leader

Wave Badge
TM55 (Scald)

Marlon

Carracosta
Level 49
/

Wailord
Level 49

Jellicent
Level 51
/
Trivia
In Humilau city there are to ace trainers spinning, but after the player moves on to the after game the female ace trainer is gone which means they probably broke up.