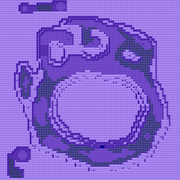 Hoenn Route 126 is a sea route located in the Hoenn region. It surrounds Sootopolis City, where the Sootopolis City Gym is located. Route 124 is located to the north, and Route 127 is to the east.
Like Route 124, by using Dive, you can access the underwater passages.
Ad blocker interference detected!
Wikia is a free-to-use site that makes money from advertising. We have a modified experience for viewers using ad blockers

Wikia is not accessible if you've made further modifications. Remove the custom ad blocker rule(s) and the page will load as expected.