Route 103
is located at the north of Oldale Town and west of Route 110. If you can't find
Prof. Birch
in his lab, he is probably here to do his fieldwork. After you become the champion of the
Pokémon League
, a new cave
Altering Cave
will be unlocked (
Pokémon Emerald
only) and will be next to the water bodies (east).
Pokémon Appearances
Edit
Ruby/Sapphire
Edit
Battle with Prof. Birch's Child
Edit
Prof. Birch's child is waiting for a battle in Route 103. This will be the first battle for you against a trainer. This is the first battle between you and your rival.
Prof. Birch's child uses a different Pokémon in the battle depending on which Pokémon you selected from the Professor after the rescue in Littleroot Town. If you choose Torchic, look out for Mudkip. If you choose Mudkip, look out for Treecko. If you choose Treecko, look out for Torchic.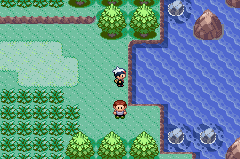 After you acquired HM03 Surf, you can access the water to the east in Route 103 and easily access both Mauville City and Slateport City via Route 110.