The hiker is a Pokémon trainer from the Kanto region.
Biography
Pokémon the Series: The Beginning
He was a trainer who battled Ash, using Rhyhorn against Bulbasaur.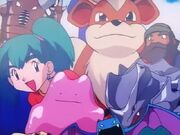 Hiker appeared in the opening scene of Adventures on the Orange Islands season, but he did not appear in any of the episodes.
Pokémon the Series: Gold and Silver
The hiker appeared in Johto, as he saw Ash's Larvitar. However, his Machoke got sucked into Team Rocket's machine, but was rescued and brought back.
Pokémon
On hand
Episode appearances
Indigo League
Master Quest
Ad blocker interference detected!
Wikia is a free-to-use site that makes money from advertising. We have a modified experience for viewers using ad blockers

Wikia is not accessible if you've made further modifications. Remove the custom ad blocker rule(s) and the page will load as expected.