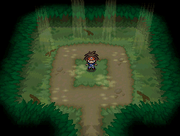 Hidden Grotto, known as Hidden Hollow (隠し穴 Kakushi Ana, literally meaning "Hidden Hole") in the Japanese Pokémon Black and White Versions 2, are small areas hidden in trees dotted around the Unova region. It is a feature that allows the player to capture a Pokémon that have a hidden ability. After emptying the grotto of its Pokémon and/or item(s), the player must take 256 steps, which gives it a 5% chance to regenerate, with the possibility of having different items and Pokémon from before. The chances of it regenerating can be increased with the help of a Pass Power.
Chances
Known that you must take certain steps to find each a Pokémon with a hidden ability, or an Item or a Hidden Item, the Hidden Grotto can be regenerate can be increased by the use of a Pass Power. Here is a list of what the percentages are to find one of the three things in the Hidden Grotto.
40% — You will find an Item.
40% — You will find a Hidden Item.
20% — You will find a Pokémon with a Hidden Ability.
Special Pokémon
Sprite
Pokémon
Type
Eevee

Normal

You can encounter this Pokémon in every Hidden Grotto around the Unova Region in the Japanese versions. This Pokémon can show up in any Grotto. The encounter chance is currently unknown. There is an Eevee Fest Mission in Japan involving Eevee and all it's evolutions. 
Sprite
Pokémon
Type
Only
Stunky

Poison

/

Dark

Glameow

Normal

You can only encounter these Pokémons in the Hidden Grotto during the Fes Missions. Do note that they only appear during the missions, not when you are on your adventure.
Hidden Grottos
Here is a list of Hidden Grottos in the Unova Region. Do note that some of the locations that has been listed here got extra items. It means that there are two Grottos located in some routes.
Route 2
Pokémon Levels: 55-60
Pokémons (20%)
Items (40%)
Hidden Items (40%)
Watchog

Normal

Poké Ball
Growth Mulch
Nidoran♀

Poison

Repel
Damp Mulch
Nidoran♂

Poison

Potion
Stable Mulch
Granbull

Normal

Great Ball
Gooey Mulch
Super Repel
Big Mushroom
Super Potion
TinyMushroom
Ultra Ball
Red Shard
Full Heal
Blue Shard
Hyper Potion
Yellow Shard
Fire Stone
Green Shard
Water Stone
Rare Candy
Thunder Stone
PP Up
Leaf Stone
PP Max
Route 3
Pokémon Levels: 55-60
Pokémons (20%)
Items (40%)
Hidden Items (40%)
Pachirisu

Electric

Poké Ball
Growth Mulch
Manectric

Electric

Repel
Damp Mulch
Zebstrika

Electric

Potion
Stable Mulch
Bibarel

Normal

/

Water

Great Ball
Gooey Mulch
Venonat

Grass

/

Poison

Super Repel
Big Mushroom
Lombre

Water

/

Grass

Super Potion
TinyMushroom
Ultra Ball
Red Shard
Full Heal
Blue Shard
Hyper Potion
Yellow Shard
Fire Stone
Green Shard
Water Stone
Rare Candy
Thunder Stone
PP Up
Leaf Stone
PP Max
Dawn Stone
Route 5
Pokémon Levels: 20-25

Pokémons (20%)
Items (40%)
Hidden Items (40%)
Foongus

Grass

/

Poison

Poké Ball
Growth Mulch
Minccino

Normal

Repel
Damp Mulch
Liepard

Dark

Potion
Stable Mulch
Great Ball
Gooey Mulch
Super Repel
Big Mushroom
Super Potion
TinyMushroom
Ultra Ball
Red Shard
Full Heal
Blue Shard
Hyper Potion
Yellow Shard
Fire Stone
Green Shard
Water Stone
Rare Candy
Thunder Stone
PP Up
Leaf Stone
PP Max
Route 6
Pokémon Levels: 25-30
Pokémons (20%)
Items (40%)
Hidden Items (40%)
Foongus

Grass

/

Poison

Poké Ball
Growth Mulch
Woobat

Psychic

/
Repel
Damp Mulch
Dunsparce

Normal

Potion
Stable Mulch
Nosepass

Rock

Great Ball
Gooey Mulch
Super Repel
Big Mushroom
Super Potion
TinyMushroom
Ultra Ball
Red Shard
Full Heal
Blue Shard
Hyper Potion
Yellow Shard
Fire Stone
Green Shard
Water Stone
Rare Candy
Thunder Stone
PP Up
Leaf Stone
PP Max
Sun Stone
Moon Stone
Shiny Stone
Dusk Stone
Pokémon Levels: 30-35
Pokémons (20%)
Items (40%)
Hidden Items (40%)
Zangoose

Normal

Poké Ball
Growth Mulch
Seviper

Poison

Repel
Damp Mulch
Watchog

Normal

Potion
Stable Mulch
Cubchoo

Ice

Great Ball
Gooey Mulch
Super Repel
Big Mushroom
Super Potion
TinyMushroom
Ultra Ball
Red Shard
Full Heal
Blue Shard
Hyper Potion
Yellow Shard
Fire Stone
Green Shard
Water Stone
Rare Candy
Thunder Stone
PP Up
Leaf Stone
PP Max
Pokémon Levels: 35-40
Pokémons (20%)
Items (40%)
Hidden Items (40%)
Liepard

Dark

Poké Ball
Growth Mulch
Muk

Poison

Repel
Damp Mulch
Garbodor

Poison

Potion
Stable Mulch
Bouffalant

Normal

Great Ball
Gooey Mulch
Super Repel
Big Mushroom
Super Potion
TinyMushroom
Ultra Ball
Red Shard
Full Heal
Blue Shard
Hyper Potion
Yellow Shard
Fire Stone
Green Shard
Water Stone
Rare Candy
Thunder Stone
PP Up
Leaf Stone
PP Max
Pokémon Levels: 35-40
Pokémons (20%)
Items (40%)
Hidden Items (40%)
Foongus

Grass

/

Poison

Poké Ball
Growth Mulch
Tangela

Grass

Repel
Damp Mulch
Skorupi

Bug

/

Poison

Potion
Stable Mulch
Drifloon

Ghost

/
Great Ball
Gooey Mulch
Spheal

Ice

/

Water

Super Repel
Big Mushroom
Super Potion
TinyMushroom
Ultra Ball
Red Shard
Full Heal
Blue Shard
Hyper Potion
Yellow Shard
Fire Stone
Green Shard
Water Stone
Rare Candy
Thunder Stone
PP Up
Leaf Stone
PP Max
Sun Stone
Moon Stone
Shiny Stone
Dusk Stone
Pokémon Levels: 55-60
Pokémons (20%)
Items (40%)
Hidden Items (40%)
Kingler

Water

Poké Ball
Growth Mulch
Corsola

Water

/

Rock

Repel
Damp Mulch
Chatot

Normal

/
Potion
Stable Mulch
Dragonite

Dragon

/
Great Ball
Gooey Mulch
Super Repel
Big Mushroom
Super Potion
TinyMushroom
Ultra Ball
Red Shard
Full Heal
Blue Shard
Hyper Potion
Yellow Shard
Fire Stone
Green Shard
Water Stone
Rare Candy
Thunder Stone
PP Up
Leaf Stone
PP Max
Pokémon Levels: 45-50
Pokémons (20%)
Items (40%)
Hidden Items (40%)
Amoonguss

Grass

/

Poison

Poké Ball
Growth Mulch
Pelipper

Water

/
Repel
Damp Mulch
Mienfoo

Fighting

Potion
Stable Mulch
Great Ball
Gooey Mulch
Super Repel
Big Mushroom
Super Potion
TinyMushroom
Ultra Ball
Red Shard
Full Heal
Blue Shard
Hyper Potion
Yellow Shard
Fire Stone
Green Shard
Water Stone
Rare Candy
Thunder Stone
PP Up
Leaf Stone
PP Max
Pokémon Levels: 50-55
Pokémons (20%)
Items (40%)
Hidden Items (40%)
Zangoose

Normal

Poké Ball
Growth Mulch
Seviper

Poison

Repel
Damp Mulch
Golduck

Water

Potion
Stable Mulch
Absol

Dark

Great Ball
Gooey Mulch
Gligar

Ground

/
Super Repel
Big Mushroom
Super Potion
TinyMushroom
Ultra Ball
Red Shard
Full Heal
Blue Shard
Hyper Potion
Yellow Shard
Fire Stone
Green Shard
Water Stone
Rare Candy
Thunder Stone
PP Up
Leaf Stone
PP Max
| Pokémon Levels: 55-60 | Pokémon | | | |
| --- | --- | --- | --- | --- |
Pokémon Levels: 45-50
Pokémons (20%)
Items (40%)
Hidden Items (40%)
Clefairy

Normal

Poké Ball
Growth Mulch
Metang

Psychic

/

Steel

Repel
Damp Mulch
Ditto

Normal

Potion
Stable Mulch
Sneasel

Dark

/

Ice

Great Ball
Gooey Mulch
Super Repel
Big Mushroom
Super Potion
TinyMushroom
Ultra Ball
Red Shard
Full Heal
Blue Shard
Hyper Potion
Yellow Shard
Fire Stone
Green Shard
Water Stone
Rare Candy
Thunder Stone
PP Up
Leaf Stone
PP Max
Pokémon Levels: 35-40
Pokémons (20%)
Items (40%)
Hidden Items (40%)
Amoonguss

Grass

/

Poison

Poké Ball
Growth Mulch
Bronzor

Steel

/

Psychic

Repel
Damp Mulch
Vulpix

Fire

Potion
Stable Mulch
Golduck

Water

Great Ball
Gooey Mulch
Swablu

Normal

/
Super Repel
Big Mushroom
Super Potion
TinyMushroom
Ultra Ball
Red Shard
Full Heal
Blue Shard
Hyper Potion
Yellow Shard
Fire Stone
Green Shard
Water Stone
Rare Candy
Thunder Stone
PP Up
Leaf Stone
PP Max
Pokémon Levels: 20-25
Pokémons (20%)
Items (40%)
Hidden Items (40%)
Combee

Bug

/
Poké Ball
Growth Mulch
Leavanny

Bug

/

Grass

Repel
Damp Mulch
Pinsir

Bug

Potion
Stable Mulch
Heracross

Bug

/

Fighting

Great Ball
Gooey Mulch
Super Repel
Big Mushroom
Super Potion
TinyMushroom
Ultra Ball
Red Shard
Full Heal
Blue Shard
Hyper Potion
Yellow Shard
Fire Stone
Green Shard
Water Stone
Rare Candy
Thunder Stone
PP Up
Leaf Stone
PP Max
Pokémon Levels: 10-15
Pokémons (20%)
Items (40%)
Hidden Items (40%)
Marill

Water

Poké Ball
Growth Mulch
Herdier

Normal

Repel
Damp Mulch
Dunsparce

Normal

Potion
Stable Mulch
Great Ball
Gooey Mulch
Super Repel
Big Mushroom
Super Potion
TinyMushroom
Ultra Ball
Red Shard
Full Heal
Blue Shard
Hyper Potion
Yellow Shard
Fire Stone
Green Shard
Water Stone
Rare Candy
Thunder Stone
PP Up
Leaf Stone
PP Max