Grimsley is the second member of Unova's Elite Four who specializes in using Dark-type Pokémon.
AppearanceEdit
PersonalityEdit
Charming and mysterious, Grimsley displays similar behavior to that of a upper class gentleman. However his rather snide smile and scheming posture may indicate that he is somewhat of a schemer among his cohorts.
BiographyEdit
Black and WhiteEdit
Black 2 and White 2Edit
Main article: Grimsley (Adventures)
| | | | | | |
| --- | --- | --- | --- | --- | --- |
| BW battle sprite | | B2W2 battle sprite | | VS. Sprite | |
| | | | | | |
Black and WhiteEdit
Black 2 and White 2Edit
First BattleEdit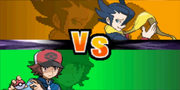 In Black 2 & White 2, Grimsley's staircase has a mechanism of some sort with things that look like scythes, a weapon used by the Grim Reaper.
The first time when Grimsley is battled, his Scrafty is a male, while in the second time it is now a female.
When the player battles the Unova Elite Four for the first and second time, almost all of Grimsley's Pokémon are females.
Grimsley's appearance is based on a vampire, partly because his room is similar to those in vampire castles, such as Dracula.
Grimsley's hair looks like the whiskers of Liepard.
In the second battle with Grimsley, the only Pokémon that is male is his Sharpedo.
Part of Grimsley's name is "grim" which fits the motif of Dark-type Pokémon being tied to death in some way.
Grimsley's family tree fell to ruins, afterwards he started to have a habit of gambling.
The first time you battle Grimsley, his Bisharp is premature (Pawniard doesn't evolve until level 52).
In Black 2 & White 2, Grimsley's character sprite has him holding a coin, while in Black and White, he doesn't hold anything.