Grant
(ザクロ Zakuro)

"The wild, yet cool and collected, rock climber."
General
Hometown
Cyllage City
Region
Kalos
Badge
Cliff Badge
Preferred Type
Rock
First Appearance
X and Y
Class:
Gym Leader
Grant is a Rock-type Gym Leader of the Kalos region. He also excels at bike racing, mountain climbing, and various other sports, showing a strong heart when he's being challenged.
AppearanceEdit
Grant has dark skin, black hair and greyish eyes. He wears three stones in his hair, colored yellow, red and blue. He wears a simple black shirt, grey pants and black shoes and carries the climbing equipment on his neck and around his hips.
PersonalityEdit
Grant is a trend setter and loves to be fashionable. He loves to climb rocks, due to his apparel having the gear for it.
BiographyEdit
Main article: Grant (Adventures)
Main article: Grant (anime)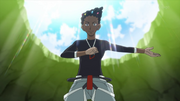 Grant first appeared in Breaking Titles at the Chateau! with the title of Nobleman. He battled Viola's Surskit and earned the title of Duke after defeating it.
Grant is the third Gym Leader to have Pokémon revived from fossils on his team. The others are Sinnoh's Roark and Byron.

Grant's team has all the Fossil Pokémon introduced in Generation VI.

Grant is the only Rock-type Gym Leader not to be the first Gym Leader in a region.