Giovanni's Rhyhorn
Sakaki's Saihoun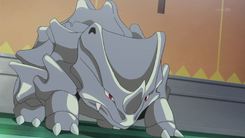 Giovanni's Rhyhorn is a ground/rock-type Pokémon owned by Giovanni.
Biography
Games
Main article: Giovanni (game)#Pokémon
Giovanni owned a Rhyhorn in Red and Green, Yellow and FireRed and LeafGreen games. It debuted in Pokémon Red and Green, being at Lv. 24 and knowing Horn Attack. In later encounters, it is Lv. 37 and knows Tail Whip and Stomp and in the Gym Battle Lv. 45 and knows Fury Attack as well.
Anime
This article or section is completely BLANK!
Please help the Pokémon Wiki by expanding it.
Manga
In the Pokémon Adventures, Rhyhorn debuted in Red's Gym Battle against Giovanni.
Later, it saved Yellow from Lance's attacks and soon after, Giovanni appeared with her.
Known moves
Anime
Manga
Gallery