Giovanni's Nidoqueen
Sakaki's Nidokuin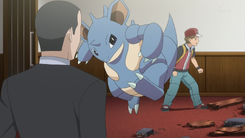 Giovanni's Nidoqueen is a poison/ground-type Pokémon owned by Giovanni.
Biography
Games
Main article: Giovanni (game)#Pokémon
Giovanni owned a Rhyhorn in all main Pokémon games. It debuted in Pokémon Red and Green, being at Lv. 41 and knowing Scratch, Tail Whip, Double Kick and Poison Sting.
Anime
This article or section is completely BLANK!
Please help the Pokémon Wiki by expanding it.
Manga
In the Pokémon Adventures, Nidoqueen debuted in Red's Gym Battle against Giovanni.
Known moves
Anime
Manga