The Giant Chasm is a location found in Unova where Kyurem can be found here at level 75 deep inside. This area mainly specializes in having many Pokémon from the previous generations such as Tangela and Ditto. It is also famous for being the only place in the Unova region that houses Ditto.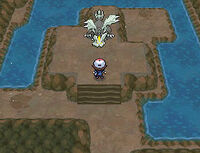 It is stated that whoever enters the Chasm, surely disasters will follow. The residents from Lacunosa Town refer to it as the "hole" where a dangerous monster lives.
Inside CaveEdit
Black and White Versions 2Edit
When you come to the Giant Chasm in Black 2 and White 2, you will battle the following main Team Plasma Members.
On Plasma Frigate:Edit
Team Plasma Colress (On Plasma Frigate)

Shadow Triad (On Plasma Frigate)
Inside the Giant Chasm Cave:Edit
Defeat Black Kyurem (Black 2)/White Kyurem (White 2)
(Black Kyurem/White Kyurem cannot be captured because Ghetsis's "staff" when you first encounter it but when you receive N's Zekrom (Black 2)/Reshiram (White 2), you can come back to the Giant Chasm and battle it again. When you come back, it will be at Lv. 70 in its normal form and to become Black Kyurem/White Kyurem, it will need to be combined with Zekrom/Reshiram by using an item called the DNA Splicers.

Final Battle vs. Team Plasma Ghetsis
This cave is very similar to the Cerulean Cave from Pokémon Red, Blue, Green, and Yellow versions, as it features very high leveled Pokémon and a very powerful Legendary Pokémon at the end.
Wild Pokémon in the plains are the highest level regular Pokémon found in Unova. They range from level 50-65.
It is said that disaster is said to befall trainers who approach the Giant Chasm, which may explain why Absol can be caught here.