Calem is the male protagonist from the X and Y games. His home at the start of the game is Vaniville Town. His female counterpart is Serena.
AppearanceEdit
Calem has black hair with blue-gray eyes and wears a dark red hat with sunglasses. He also wears a blue track jacket with white stripes, navy blue pants, and black combat boots with blue laces. He carries around a black messenger bag with blue decals on it. He has a Mega Ring on his left wrist.
If the player is female, he does not wear a hat.
PersonalityEdit
When acting as the player's rival, Calem appears to be a very mature trainer with a deeply ingrained sense of justice. He openly threatens Team Flare several times throughout the game, and provides the player's character with advice and support. He cares greatly about all Pokemon, and asists the player in battling Team Flare on several occasions. He is a good sportsman, who does not take losing badly, merely using it as an opportunity to improve himself. It is mentioned that both of his parents are experienced Pokemon Trainers.
BiographyEdit
Main GamesEdit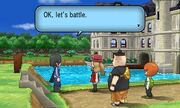 Calem is a boy living in Vaniville Town with his friends Tierno, Trevor, and Shauna.
AdventuresEdit
Main article: X (Adventures)
Calem's
Overworld Model in X and Y




Calem's Battle VS Scene as the Rival in X and Y




Calem's PSS icon in X, Y, and PGL









Main GamesEdit
| | |
| --- | --- |
| This article or section is empty. Please help the Pokémon Wiki by expanding it. | |
External linkEdit
Calem (Pokemon) on the Heroes wiki.