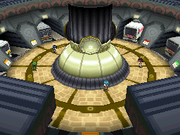 The Gear Station is located in Nimbasa City. It's not too difficult to find as it is quite a large sized building with some steps and a sign post stating the station.
Description
Gear Station, basically the host of the battle subway,the battle subway hosts eight train lines which as the name suggests lets you battle.It is located in Nimbasa city as soon as you pass thorough the tunnel or fly there just go forward and you'll run into a sign next to a big building with a clown located just outside of it,to be more discriptive there are to flags on the left a red and on the right a green. Thats also where the only available route to anville town is,and not to mention the stats judge which can appraise a Pokémons IVs.
The Gear Station appears only in Pokémon Black, White, Black 2, and White 2, its not really about the gear station though its more about the battle subway, the gear station is only the building, so theres no need to confuse anymore since the gear station and the battle subway are really just the same thing.
The main point in Gear Station is to engage in fun battles,collecting and gaining battle points to exchange for items.you might also run into the Subway Boss Ingo & Emmet the brothers/twin bosses.
The Gear Station is also commonly used to meet the requirements of the route 3 daycare cheat in which you can level your Pokémon up fast.
Gallery