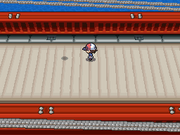 Flying Pokémon shadows are shadows of Pokémon or items introduced in Generation V, alongside rustling grass, dust clouds, and rippling water.
When traveling on either Driftveil Drawbridge or Marvelous Bridge, one may see a shadow of a flying Pokémon on the ground. If one steps into it, one will either find a wing or encounter a rare Pokémon.
List of Wings
Pokémon encountered
Ad blocker interference detected!
Wikia is a free-to-use site that makes money from advertising. We have a modified experience for viewers using ad blockers

Wikia is not accessible if you've made further modifications. Remove the custom ad blocker rule(s) and the page will load as expected.