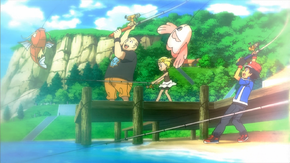 The Fishing Competition is a competition in the Pokémon Summer Camp. On the second day the participants compete as part of their teams. Points are given depending on which team gets the bigger catches. However the Trainers do not keep the Pokémon they catch.
Catches
Results
Team Squirtle: 1st
Team Chikorita: 2nd
Team Froakie: 3rd (tie)
Team Charmander: 3rd (tie)
Ad blocker interference detected!
Wikia is a free-to-use site that makes money from advertising. We have a modified experience for viewers using ad blockers

Wikia is not accessible if you've made further modifications. Remove the custom ad blocker rule(s) and the page will load as expected.