Ad blocker interference detected!
Wikia is a free-to-use site that makes money from advertising. We have a modified experience for viewers using ad blockers

Wikia is not accessible if you've made further modifications. Remove the custom ad blocker rule(s) and the page will load as expected.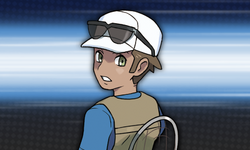 Fisherman is a Trainer Class which was introduced in Generation I. They are men wearing a fisherman's outfit and holding a fishing rod. They are found commonly near bodies of water. They use Water-type Pokémon, more specifically Pokémon one can obtain by fishing.
Sprites
| | | | | | | | | | | | | | |
| --- | --- | --- | --- | --- | --- | --- | --- | --- | --- | --- | --- | --- | --- |
| RB Battle Sprite | | GSC Battle Sprite | | GSC (JP) Battle Sprite | | RSE Battle Sprite | | FRLG Battle Sprite | | DPPt/HGSS Battle Sprite | | BW Battle Sprite | |
| | | | | | | | | | | | | | |
Trivia