Ad blocker interference detected!
Wikia is a free-to-use site that makes money from advertising. We have a modified experience for viewers using ad blockers

Wikia is not accessible if you've made further modifications. Remove the custom ad blocker rule(s) and the page will load as expected.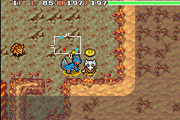 Fiery Field (Japanese: ほのおの だいち Blazing Land) is a dungeon in the Red and Blue Rescue Team games. It consists of 30 floors and contains Entei. Fiery Field is the first dungeon in the quest for the Mirage Pokémon. The HM Surf is required to access Fiery Field, and you are required to save your game before entering the dungeon. Once Entei is defeated, the Clear Wing the player has will turn into the Red Wing and allow access to the Lightning Field Dungeon.
The Pokemon found at Fiery Field are as follows:
| | | |
| --- | --- | --- |
| No. | Name | Floors Found on |
| #037 | Vulpix | 1-4 |
| #322 | Numel | 1-4 |
| #218 | Slugma | 1-5 |
| #217 | Ursaring | 1-5 |
| #126 | Magmar | 4-7 |
| #004 | Charmander | 5-8 |
| #240 | Magby | 6-9 |
| #324 | Torkoal | 9-14 |
| #136 | Flareon | 10-16 |
| #078 | Rapidash | 10-16 |
| #132 | Ditto | 10-20 |
| #323 | Camerupt | 15-21 |
| #156 | Quilava | 15-24 |
| #067 | Machoke | 17-25 |
| #219 | Magcargo | 17-25 |
| #256 | Combusken | 22-29 |
| #005 | Charmeleon | 26-29 |
| #244 | Entei | 30 (Boss) |