This article or section contains information about an upcoming subject.
The content may change dramatically as more information becomes available.
Please do not add unsourced speculation to this article.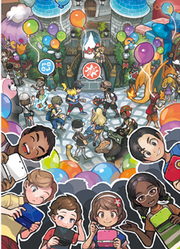 Festival Plaza is a new feature introduced in Generation VII. It is owned by Trial Captain Sophocles.
Information
From Pokémon.com
In Pokémon Sun and Pokémon Moon, communication features such as battling and trading are all gathered together in Festival Plaza. This is a place where the festivities never stop, as Pokémon Trainers from around the world meet and mingle.
As you progress through your adventure, you'll become able to use Festival Plaza, where you can welcome other people and take requests to keep things hopping. Talk to your visitors to liven things up!
Trivia
This may replace the PSS (Player Search System)
Gallery