Female Symbol is a Glitch Pokémon exclusive to the English version of Pokémon Yellow. It's cry never ends and can make it take literally forever to go on with your game unless you turn off your Game Boy or if you use an emulator, close it. There is a Gameshark code to obtain Female Symbol. That code is 01C1D7CF. It can also corrupt the game.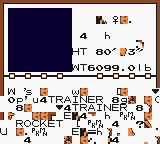 Ad blocker interference detected!
Wikia is a free-to-use site that makes money from advertising. We have a modified experience for viewers using ad blockers

Wikia is not accessible if you've made further modifications. Remove the custom ad blocker rule(s) and the page will load as expected.