Ad blocker interference detected!
Wikia is a free-to-use site that makes money from advertising. We have a modified experience for viewers using ad blockers

Wikia is not accessible if you've made further modifications. Remove the custom ad blocker rule(s) and the page will load as expected.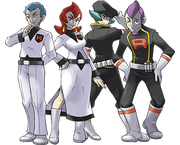 Executive (Rocket Executive in Generation II, and Team Rocket Admin in Generation III) is a Trainer class that first debuted in the Generation II games. They are the highest-ranking members after Giovanni and are the leaders of Team Rocket after he vanishes from the organization. They use a combination of Poison-type and Dark-type Pokémon.
Sprites
Pokémon
Gold/Silver/Crystal
Proton
Petrel
First Battle
Second Battle
Ariana
First Battle
Second Battle
Archer
FireRed/LeafGreen
Ariana
Archer
HeartGold/SoulSilver
Proton
First Battle
Second Battle
Petrel
First Battle
Second Battle
Ariana
First Battle
Second Battle
Archer