Togepi
Japanese Name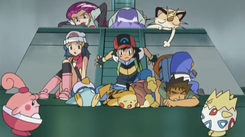 Togepi is a fairy-type Pokémon.
BiographyEdit
In the Hoenn region's Mirage Kingdom, a bunch of Togepi were living in peace in Togepi Paradise. However, Colonel Hansen wanted to become the king, so he weakened the Togepi and took them away. However, Togepi shared their power to evolve Misty's Togepi into Togetic, who, with Misty's help, defeated Hanson and returned all Togepi back into the Paradise.
In Sinnoh, an evil Togepi saw Team Rocket in their Team Rocket Tower and ate three of their food supplies. When they found out, she tricked them into thinking she was a different Togepi. She also tricked Ash Ketchum and his team, until Team Rocket was knocked down their prison and her cover was blown. She used Attract to control Pikachu, Piplup, Croagunk and Meowth, though it was ineffective against Yanmega because it was female. Using Team Rocket's rocket, they made their way into outer space and she got into a fight with Happiny. She saved them and went home, but not before blowing up the rocket. She laughed when Team Rocket was trapped.
Known movesEdit