Ad blocker interference detected!
Wikia is a free-to-use site that makes money from advertising. We have a modified experience for viewers using ad blockers

Wikia is not accessible if you've made further modifications. Remove the custom ad blocker rule(s) and the page will load as expected.
Eterna City Gym
, which of course is in
Eterna City
, is the second gym to be challenged in the Sinnoh Region. Like
Celadon City Gym
the trainers here, including the Gym Leader Gardenia, are all female and they all use
Grass
-type Pokémon. In Diamond and Pearl the player character had to traverse a forest maze which was leveled out to fit the style of the Nintendo DS 3d graphics. This came into more use in
Pokémon Black and White
. In
Pokémon Platinum
, the center of the Gym is a big floral clock that changes hands when you beat a trainer.
Eterna City
is North of
Floaroma Town
. In Diamond and Pearl each time you beat a Trainer, they would give you a clue for where to find the next trainer. There are five trainers in the Eterna City Gym, including the
Gym Leader
in Diamond and Pearl. When you defeat the fourth trainer, she'll inform you that the
Gym Leader
is next. In Platinum there are four trainers, including the Gym Leader.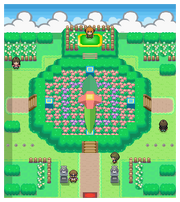 General Information
Diamond and Pearl
Gym Leader Gardenia:

Cherubi
  

Turtwig
  

Roserade
   
[[File:{{{P4}}}_BW.gif|link={{{P4}}}]]
[[]]
  
[[File:{{{P5}}}_BW.gif|link={{{P5}}}]]
[[]]
  
[[File:{{{P6}}}_BW.gif|link={{{P6}}}]]
[[]]
  
Lv. 19

♀

Lv. 19

♂

Lv. 22

♀

Lv. ?
-
Lv. ?
-
Lv. ?
-
Ability: Chlorophyll
Ability: Overgrow
Ability: Natural Cure
Ability: Unknown
Ability: Unknown
Ability: Unknown
Item: None
Item: None
Item: Sitrus Berry
Item: ?
Item: ?
Item: ?
Grass Knot
Razor Leaf
Magical Leaf
-
-
-
Leech Seed
Grass Knot
Stun Spore
-
-
-
Safeguard
Withdraw
Grass Knot
-
-
-
Growth
Reflect
Poison Sting
-
-
-
Platinum
Gym Leader Gardenia:

Turtwig
  

Cherrim
  

Roserade
   
[[File:{{{P4}}}_BW.gif|link={{{P4}}}]]
[[]]
  
[[File:{{{P5}}}_BW.gif|link={{{P5}}}]]
[[]]
  
[[File:{{{P6}}}_BW.gif|link={{{P6}}}]]
[[]]
  
Lv. 20

♂

Lv. 20

♀

Lv. 22

♀

Lv. ?
-
Lv. ?
-
Lv. ?
-
Ability: Overgrow
Ability: Flower Gift
Ability: Natural Cure
Ability: Unknown
Ability: Unknown
Ability: Unknown
Item: None
Item: None
Item: Sitrus Berry
Item: ?
Item: ?
Item: ?
Razor Leaf
Grass Knot
Magical Leaf
-
-
-
Grass Knot
Leech Seed
Stun Spore
-
-
-
Sunny Day
Safeguard
Grass Knot
-
-
-
Reflect
Magical Leaf
Poison Sting
-
-
-