Erika's Tangela
エリカのモンジャラ Erika's Monjara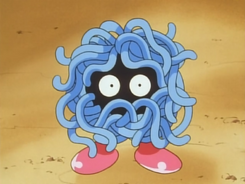 Erika's Tangela is a Pokémon owned by Erika.
Biography
Games
Main article: Erika#Pokémon
Erika owned a Tangela in all main Pokémon games. It debuted in Pokémon Red and Green, being at Lv. 24 and knowing Bind and Constrict.
Anime
Erika used Tangela in her Gym Battle against Ash. Using Constrict Tangela nullified Bulbasaur's Vine Whip and after Tangela's Stun Spore, Ash called his Bulbasaur back.
Known moves
Gallery