Driftveil City
ホドモエシティ
Hodomoe City
"A City of Billowing Sails"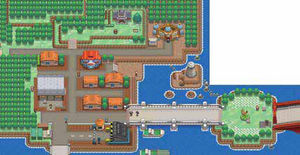 Driftveil City is a historic port city in western Unova. It's connected to Nimbasa City in the east by Driftveil Drawbridge, which is operated by Clay, the Ground-type expert and Driftveil City Gym Leader. To the west, it leads to Route 6. The area has a fairly cool climate, and is prone to rain all year round.
The city's Gym specializes in mining precious gemstones, and the city itself has a proud history of overseas trade, exporting various goods across the world. A lighthouse helps ships navigate the shoreline to safely arrive at the port and docking yard to the south, where containers are stored in dedicated cold storage facilities. The gold statue of a sail, located in the eastern entrance, symbolises just how important shipping is to the city.
Upon arriving here, you'll come across Cheren and an angry Clay. Clay isn't happy that lowering the drawbridge for you has led to Team Plasma's escape. Blaming you, he insists you hunt in Cold Storage for them and won't battle you until you've ousted Team Plasma from the city.
After winning the Quake Badge, you'll bump into Bianca when you head to Route 6. She gives you HM02 Fly when you beat her.
Move TutorEdit
A move tutor here can teach your starter Pokémon (or its evolutions) a new battle-combo move if your Pokémon is happy enough; Grass Pledge, Water Pledge or Fire Pledge. When two of these moves are combined in Double/Triple/Rotation Battles, their power increases and the move has additional effects.
In the passage to the left of the market, you'll get the opportunity to try out one of Generation V's new battle modes: Rotation Battle in Black; and Triple Battle in White.
If you traded Minccino for Basculin, you can challenge the Trainer after completing N's Castle.
Main article: Driftveil City Gym
Driftveil Gym Leader
Quake Badge
TM78 (Bulldoze)

Clay

Krokorok
Level 29


Palpitoad
Level 29


Excadrill
Level 31

As well as exporting, the city imports many goods from distant lands, and the market in the western area of the city stocks exclusive items such as MooMoo Milk which can't be found anywhere else in Unova.
Post GameEdit
After beating the game, a former Team Plasma grunt sells various incenses here.