Descriptions
Pokétch No: 18
Basic Info: "The Dot Artist app gives players free reign to their creativity."
Computer Info: "The Dot Artist lets you draw pictures in a mosaic style. Touching the same dot makes its color turn darker."
Obtained
It is obtainable from the man in a house in Sunyshore City (requires Rock Climb) if you show him a Pokémon with Naive nature.
You must have the Calendar app.
Uses
When you just received this app, the text 'Touch!' is found written at this app.
The dot (or square) is larger than Memo Pad app.
Touch the same dot to make its colour turn darker.
There are four different shades.
Unlike the Memo Pad app, the image drawn will stay permanently on this app.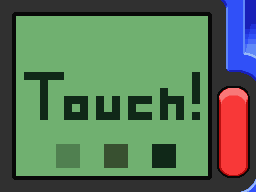 Ad blocker interference detected!
Wikia is a free-to-use site that makes money from advertising. We have a modified experience for viewers using ad blockers

Wikia is not accessible if you've made further modifications. Remove the custom ad blocker rule(s) and the page will load as expected.