Ad blocker interference detected!
Wikia is a free-to-use site that makes money from advertising. We have a modified experience for viewers using ad blockers

Wikia is not accessible if you've made further modifications. Remove the custom ad blocker rule(s) and the page will load as expected.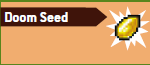 Doom Seeds
are items that reduce the level of the Pokémon they are used on by one.
Locations in Explorers of Time, Darkness, & Sky
Mystifying Forest (appear on all floors)
Blizzard Island (appear on all floors)
Crevice Cave (appear on all floors)
Surrounded Sea (appear on all floors)
Miracle Sea (appear on all floors)
Aegis Cave (appear on all floors)
Mt. Mistral (appear on all floors)
Mt Travail (appear on all floors)
Spacial Rift (appear on all floors)
Dark Crater (appear on all floors)
Concealed Ruins (appear on all floors)
Mt Avalanche (appear on all floors)
Giant Volcano (appear on all floors)
Mystery Jungle (appear on all floors)
Sky Stairway (appear on all floors)
World Abyss (appear on all floors)
Bottomless Sea (appear on floors 1-48)
Oblivion Forest (appear on all floors)
Treacherous Waters (appear on all floors)
Southeastern Islands (appear on all floors)
Inferno Cave (appear on all floors)
Zero Isle North (appear on all floors)
Zero Isle East (appear on all floors except 20F)
Zero Isle West (appear on all floors except 20F)
Zero Isle Center (appear on all floors)