Donphan
ドンファン Donfan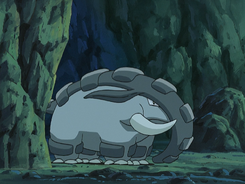 Donphan is a ground-type Pokémon that appeared in Pokémon Ranger and the Kidnapped Riolu! Part 2.
Biography
Kellyn captured this Donphan to help him and Ash Ketchum to get through the cave by using Rollout to push the rocks away. They reached J's client and J's client's Aggron used Double-Edge but Donphan countered with Horn Attack.
Known moves
Gallery
Ad blocker interference detected!
Wikia is a free-to-use site that makes money from advertising. We have a modified experience for viewers using ad blockers

Wikia is not accessible if you've made further modifications. Remove the custom ad blocker rule(s) and the page will load as expected.