Donphan (Japanese: ドンファン Donfan) is a Ground-type Pokémon. A Shiny Donphan appeared in the anime in the episode Rollout! Loving Donphan!! Donphan resembles a slightly armored elephant.
Evolution
Donphan is the evolved form of Phanpy, Phanpy evolves into Donphan at level 25
In the anime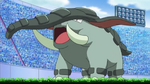 Many Pokémon trainers own Donphan.
Ash
owns a
Donphan
, which was last used at the Sinnoh League against Conway's Shuckle.
Game info
Game locations
Pokédex entries
Trainers with a Donphan
Trivia
Donphan and Tyranitar have the same species. They are both known as Armor Pokémon.
Pokémon Crystal is the only known game in which Donphan lifts up its trunk.
Kenta Miyake who plays Giovanni in the original Japanese anime series voices Donphan in both the Japanese and English-language versions of the anime.
Sources