Darmanitan

ヒヒダルマ Hihidaruma

Generation V

Evolutionary line
Darmanitan

ヒヒダルマ Hihidaruma

Generation V

Evolutionary line
Darmanitan (Japanese: ヒヒダルマ Hihidaruma) is a Fire-type Pokémon that evolves from Darumaka and was introduced in Generation V. Its classification is the Blazing Pokémon. It has a new ability called Sheer Force, but Special Darmanitan found in Desert Resort, and awakened by a RageCandyBar can have Zen Mode.
Appearance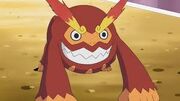 Darmanitan is a mainly red, ape-like Pokémon.
It has another form called Zen Mode that has a similar torso to the normal form, but has shortened eyebrows, retracted limbs, and is colored blue. It has also has no pupils and gains the psychic type, along with having its stats altered. It is also brightly colored looking at his arms and legs and near the eyes and has three brightly colored blue dots on his torso.
Form gallery
Evolution
Darmanitan is the evolved form of Darumaka as of level 35.
Game Info
Game Locations
Pokédex Entries
Pokédex Entries
Black
Its internal fire burns at 2,500º F, making enough power that it can destroy a dump truck with one punch.
White
When weakened in battle, it transforms into a stone statue. Then it sharpens its mind and fights on mentally.
Black 2
When one is injured in a fierce battle, it hardens into a stone-like form. Then it meditates and sharpens its mind.
White 2
When one is injured in a fierce battle, it hardens into a stone-like form. Then it meditates and sharpens its mind.
X
Y
Omega Ruby
Alpha Sapphire
Learnset
Sprites
Trivia
In Pokemon Black 2 and White 2, you can catch the Darmanitan that belonged to N in the Desert Resort.
Darmanitan seems to be based on an orangutan. Its design also seems to bear resemblance to the Daruma doll.
Darmanitan's name is a combination of the words daruma, and orangutan.
Darmanitan was revealed along with six other Pokémon in July's issue of CoroCoro on June 11, 2010.
Darmanitan is one of the few non-legendaries to have different forms, much like Castform .
Darmanitan somewhat resembles Donkey Kong in the anime Best Wishes Episode #008.
When Darmanitan's health goes below 50%, it goes into its Zen Mode if it has the proper ability.
Darmanitan is the only

Fire

-type Pokémon that learns Hammer Arm by leveling up.
Only special Darmanitan can have the ability Zen Mode, If you evolved it from Darumaka, the resulting Darmanitan won't have Zen Mode unless Darumaka has it's special ability prior to this.
Sources
Evolutionary Line