This Shedinja is a bug/ghost-type Pokémon owned by Crystal.
Biography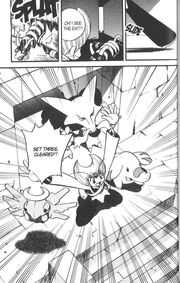 Crystal sent some of her Pokémon, including Shedinja, to Emerald who used them in the Battle Pyramid, which he showed to Pyramid King Brandon.[1] Emerald used Shedinja to battle against a Misdreavus and Shedinja used Shadow Ball which defeated the Misdreavus. Emerald chose Shedinja to receive from Crystal, due to its Wonder Guard ability.[2]

Known moves
References
Ad blocker interference detected!
Wikia is a free-to-use site that makes money from advertising. We have a modified experience for viewers using ad blockers

Wikia is not accessible if you've made further modifications. Remove the custom ad blocker rule(s) and the page will load as expected.