Crustle (Japanese: イワパレス Iwapalace) is a Bug/Rock-type Pokémon introduced in Generation V.
Appearance
Crustle is a red and brown colored crab-like Pokémon with a large stone or dirt pile on its back that it uses as a shell. The shell alternates brown and red stripes.
Evolution
Crustle is the evolved form of Dwebble as of level 34.
Evolutionary Line
In the anime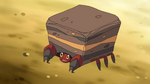 Main article: Cilan's Crustle
Shortly after being sent into battle against Team Rocket, Cilan's Dwebble evolved into Crustle and used its newly learned Rock Wrecker to defeat Jessie's Woobat.
Game Info
Game Locations
Pokédex Entries
Pokédex Entries
Black
Competing for territory, Crustle fight viciously. The one whose boulder is broken is the loser of the battle.
White
It possesses legs of enormous strength, enabling it to carry heavy slabs for many days, even when crossing arid land.
Black 2
White 2
X
Y
Omega Ruby
Alpha Sapphire
Learnset
Sprites
Origin
Design
Like its pre-evolution, Dwebble, Crustle is based on a hermit crab.
Etymology
Crustle's English name appears to be a portmanteau of "crust" and "mantle", which are the first two layers of the Earth's surface.
Trivia
Crustle is July on the Pokémon Horoscope.
Sources