"The ring is my rolling sea.
The towering waves shaped me.
Crash! Crash! Crasher Wake!
Crash! Crash! Crasher Wake!
I'm the tidal wave of power to wash you away!
Put out the fire, Crasher Wake!
Run from electricity, Crasher Wake!
Ah, ah, aaaah!
The ring is my sea."
— Crasher Wake in Pokémon Platinum.
Crasher Wake serves as the Gym Leader at the Pastoria City Gym. Wake specializes in Water-type Pokémon, and holds the Fen Badge for the trainers that defeat him.
In the Anime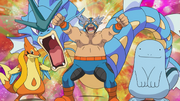 Crasher Wake first appeared in the episode
Cream of the Croagunk Crop!
in the Pokémon anime series. Here he was seen as a judge, in the local Croagunk Festival. In the next episode
A Crasher Course in Power!,
Ash
challenges Crasher Wake to a Gym Battle. Wake uses a team of
Gyarados
,
Quagsire
and
Floatzel
against Ash's team of
Pikachu
,
Turtwig
and
Buizel
. Using his Buizel against Wake's Floatzel, Ash wins the battle. Upon leaving Pastoria City, Wake awards Ash his Fen Badge.
In the manga
Diamond and Pearl Arc
He was happy to hear the challenge but he forgot that he wasn't wearing his mask so the match was postponed.
In the games
Crasher Wake first appeared in the first Generation IV games. Wake's Gym is filled with switches where, if stepped on, will raise or lower the water level. Using these switches is the only way to reach Wake. Upon winning, the player will receive the Fen Badge, and TM55 (Brine). He also he makes an cameo appearance in HG/SS, outside the Safari Zone, on one of the bridges, and in the Celadon Department Store, where he gives the player masks of the Sinnoh Starter Pokémon.
Sprites
Pokémon
In Anime
Pokémon
Information
Crasher Wake's Gyarados is used first on his battle with Ash. It was used to battle Ash's Pikachu but was quickly defeated by Thunderbolt and a Volt Tackle.
Gyarados ♂
Pokémon
Information
Quagsire battled Turtwig and Buizel forcing Ash to recall Turtwig before getting beaten by Buizel who used Aqua Jet.
Quagsire
Pokémon
Information
Floatzel was Wake's main pokemon and almost defeated Buizel and Pikachu but was finally beaten when Buizel launched a Water Pulse at point blank range.
Floatzel ♂
In Game
Diamond and Pearl
Platinum
Rematch Team
Black 2 and White 2
Water-type Tournament
Sinnoh Gym Leader Tournament/World Leaders Tournament
Trivia
Wake's name comes from the "wake" of an object in water; e.g. the wake of a boat is the disturbance it makes as it travels through water. This ties in with Wake's water type usage and also could stand for the impression he makes with his water Pokémon.
Crasher refers to 'Surfer'.
He looks similar to Chuck.
While Wake is a Water-type expert that enjoys wrestling (Fighting), Brawly is a Fighting-type expert that enjoys surfing (Water).
Wake appears in Soul Silver and Heart Gold, near the Safari Zone. He also appears in White 2 and Black 2, on Route 18.
Voice Actors
English: David Brimmer
Japanese: Tetsu Inada
Czech: Vojtech Hajek
Polish: Jakub Szydlowski
Portuguese (Brazil): Sidney Lilla
Spanish: Roberto Encinas
Iberian Spanish: Raul Anaya