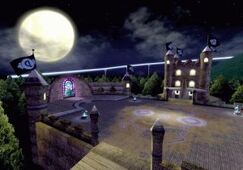 The Courtyard Colusseum is a Colosseum in Pokémon Battle Revolution.
Rental Pass Battles
Damian
Daniela
Dominique
Breana
Benny
Jackie
Kruger: Colosseum Master
Kruger - Final Battle

Gligar
   

Pupitar
   

Victreebel
   

Gabite
   

Swalot
  

Hitmontop
  
Lv. 30+

♂

Lv. 30+

♂

Lv. 30+

♂

Lv. 30+

♀

Lv. 30+

♂

Lv. 30+

♂

Ability: Hyper Cutter
Ability: Shed Skin
Ability: Chlorophyll
Ability: Sand Veil
Ability: Liquid Ooze
Ability: Technician
Item: Soft Sand
Item: Muscle Band
Item: Poison Barb
Item: Dragon Claw
Item: Wise Glasses
Item: Expert Belt
Earthquake
Stone Edge
Sludge Bomb
Dragon Rush
Gunk Shot
Triple Kick
Cross Poison
Thrash
Sleep Powder
Slash
Protect
Aerial Ace
X-Scissor
Crunch
Magical Leaf
Iron Tail
Ice Beam
Mach Punch
U-turn
Protect
Gastro Acid
Sandstorm
Hyper Beam
Feint
Ad blocker interference detected!
Wikia is a free-to-use site that makes money from advertising. We have a modified experience for viewers using ad blockers

Wikia is not accessible if you've made further modifications. Remove the custom ad blocker rule(s) and the page will load as expected.