Descriptions
Pokétch No: 11
Basic Info: "The Counter app can be used to count to 9,999."
Computer Info: "The Counter is used for counting things one at a time. Touch the button and count whatever needs counting."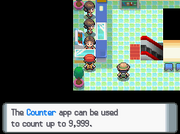 Obtained
It is obtainable from the man at the counter in the second floor of Veilstone Department Store in Veilstone City.
Uses
Use to count things.
Tap the '+' button to increase the number by 1.
Switching Pokétch apps or turning off the game resets the counter to 0.
This page is under construction.
A not defined user is improving this page. Therefore please refrain from editing temporarily until the page is finished. Please excuse the informal page. We hope to have the page completed as soon as possible.
Remember to

remove

this template when the page is complete.