Ad blocker interference detected!
Wikia is a free-to-use site that makes money from advertising. We have a modified experience for viewers using ad blockers

Wikia is not accessible if you've made further modifications. Remove the custom ad blocker rule(s) and the page will load as expected.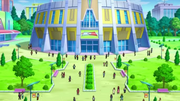 The Club Battle is a tournament held in Nimbasa Town that is held by Don George. A sixteen competitor tournament, it consists of three elimination rounds and the finals. Entrants are allowed up to three Pokémon each and are only allowed these Pokémon for the whole tournament, with the competitor knocking out the opponent's Pokémon first winning the match. The winner receives a set of Wings. It took place between Movie Time! Zorua in "The Legend of the Pokémon Knight"! till Club Battle Finale: A Hero's Outcome!.
Latest Paticipants
Other Pokemon in different round(s): (Emolga) and (Axew)
Other Pokemon in different round(s): (Palpitoad) and (Snivy)
Other Pokemon in different round(s): (Tranquill) and (Deerling)
Other Pokemon in different round(s): (Larvesta)
Other Pokemon in different round(s): (Zebstrika)
Other Pokemon in different round(s): (Dwebble)
Other Pokemon in different round(s): (Tranquill)
Other Pokemon in different round(s): (Stoutland)