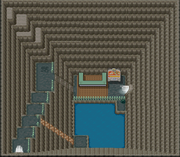 Cliff Edge Gate connects Cianwood City to Route 47. It is a small cave with a counter with a lady behind it. Once you've gotten the Red/Blue orb (depending on the game) from Mr. Pokémon, and head from there to the Embedded Tower, Chuck will talk to you, but then run off.
Ad blocker interference detected!
Wikia is a free-to-use site that makes money from advertising. We have a modified experience for viewers using ad blockers

Wikia is not accessible if you've made further modifications. Remove the custom ad blocker rule(s) and the page will load as expected.