Clemont's Chespin
シトロンのハリマロン Citron's Harimaron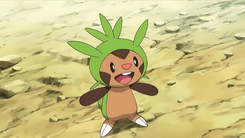 Clemont's Chespin is a grass-type Pokémon owned by Clemont.
Biography
Chespin was one of the three Starter Pokémon that Professor Sycamore had kept to give to new trainers.
By nature, Chespin is extremely gluttonous, especially when he comes across Macarons, which is his favorite food to the extent that he would put himself in danger just to get them. He also tries to help people who are in danger, such as chasing after Team Rocket in order to save Professor Sycamore, Serena, and Bonnie. Chespin is also intelligent, as he was able to understand that the pieces of macaron that were left behind by Serena were markers, or was able to deduce that the cord he came across before was the power source for the "Mega Mega Mega Mecha Meowth" and thus tried to unplug it.
After he was saved by Clemont, a special bond was created between them which lead him to decide that he wanted to travel with Clemont. During his travels, Chespin would occasionally pop out of his Poké Ball without being called on. He and Serena's Pancham have a mutual dislike of one another, which would lead to fights between them with Pikachu being the instigator.
Known moves
Voice actresses
Trivia
Chespin is the first regional Grass-type starter Pokémon to be owned by someone other than Ash.
Chespin has the tendency to pop out of its Poké Ball without being called on, a trait shared by Jessie's Wobbuffet and Misty's Psyduck.
Chespin is Clemont's only Pokémon that doesn't know any

electric

-type moves.
Gallery
References
Clemont's Pokémon
On hand


With Bonnie


At Lumiose Gym / Home


Temporary


Temporarily used by Bonnie


Befriended by Bonnie
Clemont