For other variants of Excarill belonging to Clay, see Clay's Excadrill.
Clay's Excadrill
ヤーコンのドリュウズ Yacon's Doryuzzu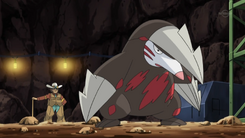 This Excadrill is a ground/steel-type Pokémon owned by Clay.
BiographyEdit
This Excadrill is Clay's most powerful Pokémon. It easily crushed Ash's Snivy by using Rapid Spin to deflect its attacks, and finishing with Horn Drill. It battled Ash's Rogenrolla, who endured Excadrill's attacks, one by one. Ash's Rogenrolla evolved into a Boldore and clashed with Excadrill, both using Rock Smash attacks. However, Boldore proved to be tougher and defeated Excadrill.
Known movesEdit