"Wahahah! So you've come this far! Let me tell you, I'm tough! My Pokémon will crush stones and shatter bones! Watch this! Urggh! Oooarrgh! There! Scared now, are you? What? It has nothing to do with Pokémon? That's true! Come on. We shall do battle!"
— Chuck, Pokemon Gold, Silver and Crystal.
Chuck (シジマ Shijima) is the Cianwood City Gym Leader. He specializes in using Fighting-type Pokémon.
AppearanceEdit
| | |
| --- | --- |
| This article or section is empty. Please help the Pokémon Wiki by expanding it. | |
PersonalityEdit
| | |
| --- | --- |
| This article or section is empty. Please help the Pokémon Wiki by expanding it. | |
BiographyEdit
| | |
| --- | --- |
| This article or section is empty. Please help the Pokémon Wiki by expanding it. | |
Main article: Chuck (Adventures)
Season 4: Johto League ChampionsEdit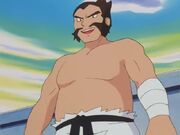 Chuck made his debut in Machoke, Machoke Man!. He was first seen training with his Machoke first on Defense then on Offense.
He was so teary eyed when he said he was proud of Machoke's power. He then noticed Ash and went drill sergeant forcing him, Misty, Brock and Pikachu to march all the way to the gym.
When they arrived, Chuck was the last one to arrive because he was tired out. His students greeted him as the master and he revealed himself to be the Gym Leader. He says that eating is also part of training, but he can be sensitive about his weight when anyone, especially his wife, calls him "flabby".
Season 5: Master QuestEdit
When Team Rocket stole Ash's badges, Ash remembered his fights with the Johto Gym Leaders, as his Pokémon were responsible for winning those badges.
Gold, Silver and CrystalEdit
HeartGold and SoulSilverEdit
Black 2 and White 2Edit
Stadium 2Edit
Pokémon
Information

Poliwrath is Chuck's Pokémon, which was used in Ash's battle. Pikachu attempted to defeat it with Quick Attack, but Poliwrath absorbed the attack and defeated Pikachu. However, Bayleef managed to toss it and defeat it with a Body Slam

Poliwrath
Pokémon
Information

Machoke is Chuck's ace Pokémon, whom he trained with. It knows a powerful move, Submission, which makes it powerful. However, Bayleef managed to toss it and use a Body Slam on it, defeating Machoke.

Machoke
Voice ActorsEdit
English: Dan Green
Japanese: Nobuaki Kakuda
Polish: Jan Kulczycki
Spanish: Inaki Crespo
Iberian Spanish: Luis Alfonso Padilla
Episode appearancesEdit
Johto League ChampionsEdit
Master QuestEdit
Chuck's name is a play on the word CHUCK, which is a slang term that means to throw, since he is a Fighting type Pokémon trainer.

Chuck's name may also be derived from famous actor, Chuck Norris, whom is skilled in martial arts and is in movies and shows that involve him fighting.

In the Pokémon Adventures manga by Hidenori Kusaka, he has a rival named Walker, who is Falkner's father.
In the anime, Chuck swapped his Primeape from the games with a Machoke.
Chuck taught Blue in two things, Martial Arts and training his Pokémon.
A Pokémon Ranger in Black 2 and White 2, on Route 11 talks about training by standing under a waterfall, like Chuck does in his Gym.