Byron's Bronzor
Japanese Name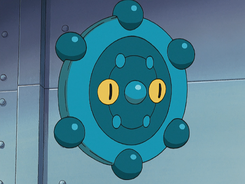 Byron's Bronzor is a steel/psychic-type Pokémon owned by Byron.
Biography
Edit
It battled Ash's Chimchar in Dealing with Defensive Types. Despite its use of Rain Dance and its special ability Heatproof, Chimchar proved too powerful for Bronzor to defeat and Bronzor lost the battle.
Known moves
Edit
Diamond and Pearl Adventure!
Edit