Butler's Salamence
Butler's Bohmander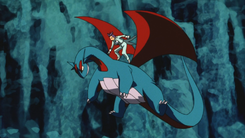 Butler's Salamence is a Salamence that belongs to Butler in the Pokémon movie, Jirachi: Wish Maker.
Biography
Edit
Salamence was Butler's primary Pokémon which was used mostly for flying purposes.
Known moves
Edit
In the English version, the sound it makes is the sound that is generically used for dragons.