Butch's Mightyena
Kosaburō Guraena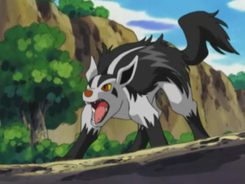 General
Trainer:
Butch
Debut:
Oaknapped!
Episode captured:
Prior to Oaknapped!
Current location:
With Butch
Details
Butch's Mightyena is a dark-type Pokémon owned by Butch.
Biography
Mightyena debuted in
Oaknapped!
, where it went up against
Tracey's Scyther
and
Ritchie's Taillow
alongside
Cassidy's Sableye
. It appeared again in
PC012: A Date With Delcatty
, where it battled
Casey's Meganium
. Its last appearance was in
PC017: Luvdisc Is a Many Splendored Thing!
, where it battled Luverin and ended up accidentally blasting off Butch and Cassidy with a Hyper Beam. It was Butch's first known Hoenn Pokémon.
Known moves
Gallery