For other variants of Scyther belonging to Bugsy, see Bugsy's Scyther.
Bugsy's Scyther
ツクシのストライク Tsukushi's Sutoraiku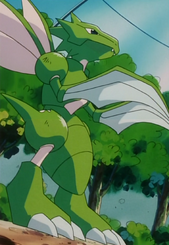 This Scyther is a Bug/Flying-type Pokémon owned by Bugsy.
BiographyEdit
Bugsy's Scyther appeared in the gym battle against Ash's Pikachu and Cyndaquil at the Azalea Gym. Scyther was Bugsey's strongest Pokémon and easily defeated Ash's Pikachu. Against Cyndaquil, Scyther used Swords Dance to raise its attack power and deflect Cyndaquil's Flamethrowers at the same time. Eventually however, Ash ordered Cyndaquil to get above Scyther and use a Flamethrower straight down at it. Scyther took severe damage from the unexpected technique and Cyndaquil finished it with a Tackle attack.
Known movesEdit