For other variants of Metapod belonging to Bugsy, see Bugsy's Metapod.
Bugsy's Metapod
ツクシのトランセル Tsukushi's Trancell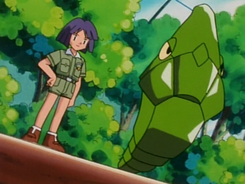 This Metapod is a bug-type Pokémon owned by Bugsy.
BiographyEdit
Bugsy owned a Metapod, who was used in the Gym Battle against Ash Ketchum. Ash's Chikorita attempted to hit it, but Bugsy's Metapod had hardened, rendering the attack useless. Chikorita was then defeated by its Tackle. Ash sent Pikachu, who also had trouble against Metapod, but ultimately defeated it with his Thunderbolt.
Known movesEdit