"I am Bruno of the Elite Four! Through rigorous training, people and Pokémon can become stronger without limit. I've lived and trained with my Fighting Pokémon! And that will never change! (Player)! We will grind you down with our superior power! Hoo hah!"
— Bruno, Pokémon Red, Blue, Yellow, LeafGreen and FireRed.
Bruno is the third Elite Four member in the Kanto region and the 3rd Elite Four member in the Johto region. He specializes in Fighting-types, and occasionally uses Onix as well.
AppearanceEdit
PersonalityEdit
BiographyEdit
Red, Green, Blue & YellowEdit
Gold, Silver & CrystalEdit
FireRed & LeafGreenEdit
HeartGold & SoulSilverEdit
Main article: Bruno (Adventures)
Main SeriesEdit
Indigo LeagueEdit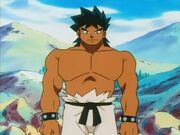 Ash and Brock were inspired by Bruno and sought him out, but when he told them there was no secret to train Pokémon, they were dissapointed. When Ash and Piakchu were about to be attacked by Onix, Bruno saved them and tried to reason with the Onix, getting a Sandlash from its hide. He caught him and told Ash, Brock and Misty the Pokémon need to be bonded to have a greater success in battles.
Red, Green and BlueEdit
Gold, Silver and CrystalEdit
FireRed and LeafGreenEdit
HeartGold and SoulSilverEdit
Stadium 2Edit
Main SeriesEdit
Pokémon
Information

Bruno obtained this Onix in IL071: To Master the Onixpected!. It went on a rampage for reasons unknown until Bruno found the source of it's pain: A wild Sandslash getting caught between the two rocks. Onix was so grateful that it accepted Bruno as it's partner. This onix has a cross-shaped scar on it's right eye.

Onix
Episode appearancesEdit
Bruno is the only person to be in the Elite Four in both Generation I and Generation II.