Brock's Sudowoodo
Takeshi's Usokkie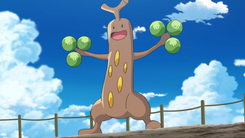 Having evolved from Bonsly,
Sudowoodo
has shed its child-like persona and has become a powerful Pokémon on Brock's team. With Powerful attacks including Mimic and Headbutt, Sudowoodo is the powerhouse of Brock's team. It is still with Brock at
Pewter Gym
.
Moves Learned Edit
Mimic MovesEdit
Voice actorsEdit
Click on the images to enlargen them.