Brock's Sudowoodo
Takeshi's Usokkie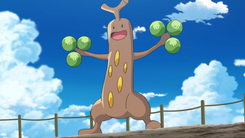 Brock's Sudowoodo is a rock-type Pokémon owned by Brock.
Biography
Edit
Having evolved from Bonsly, Sudowoodo has shed its child-like persona and has become a powerful Pokémon on Brock's team. With Powerful attacks including Mimic and Headbutt, Sudowoodo is the powerhouse of Brock's team. It is still with Brock at Pewter Gym.
Known moves
Edit
Mimic Moves
Edit
Voice actors
Edit
Click on the images to enlargen them.