For other variants of Geodude belonging to Brock, see Brock's Geodude.
Brock's Geodude
タケシのイシツブテ Takeshi's Isitsubute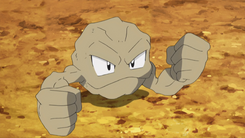 This Geodude is a Rock/Ground-type Pokémon owned by Brock.
Biography
Edit
It debuted in Showdown In Pewter City. How Brock obtained Geodude is unknown; however, Geodude has always been a vital member of Brock's team, always being there for battle or for certain contests. Geodude is an unfailingly fun-loving Pokémon that is known to have fun with Ash's Pikachu and the other Pokémon on many occasions, though it was seldom seen. When Brock left for Hoenn, he also left Geodude in Forrest's care.
Known moves
Edit
Voice actors
Edit