This article needs the latest image.
Reason: "Gen. IV anime gif in use".
Blizzard (ふぶき Snowstorm) is an Ice-type special move introduced in Generation I. It has been TM14 since Generation I.
DescriptionEdit
The user shoots a brutal snow-and-wind attack at the foe.
In BattleEdit
It has a 10% chance to freeze the foe solid. Following Generation V, when the weather condition is raining hail, the accuracy of Blizzard changes from 70% to 100%. In double battles, Blizzard hits both foes and the ally of the user in Generation III. This changes following Generation IV, where Blizzard no longer hits the ally, but still hits both foes. In triple battles, Blizzard only hits a single foe.
A highly appealing move.
Super ContestsEdit
Earn +2 if the Pokémon performs first in the turn.
Contest SpectacularsEdit
Badly startles all Pokémon to act before the user.
By Leveling UpEdit
This section is completely EMPTY!
Please help the Pokémon Wiki by expanding it.
Blizzard depicted in the anime (Origins)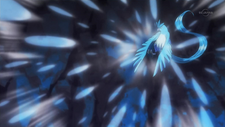 Red's Articuno using Blizzard