"
Hah! I'm Blaine, the red-hot Leader of Cinnabar Gym! My fiery Pokémon are all ready with intense heat! They incinerate all challengers! Hah! You better have Burn Heal!
"

–Blaine, Pokémon FireRed and LeafGreen
Blaine (Japanese: カツラ Katsura) serves as the seventh Gym Leader at Cinnabar Island's Gym. He specializes in using Fire-type Pokémon and gives the Volcano Badge to the trainers able to defeat him.
Biography
Games
Blaine first appeared in the Generation I games as the Cinnabar Island Gym Leader. Before actually getting inside Blaine's Gym however, the player must find the Secret Key to unlock the Gym's door, which is located in the Pokémon Mansion next door. His Gym was filled with quiz machines that unlocked the doors leading up to him. If the player answers incorrectly, they are forced to battle a Gym member.
In the Generation II games, the volcano on Cinnabar Island has erupted forcing Blaine to relocate to the Seafoam Islands. In the Generation III remakes, Blaine is again the Cinnabar Gym Leader, with an updated appearance.
Manga
Red, Blue, Green Arc
He used to be with Team Rocket and is also the person who created Mewtwo but he quit Team Rocket because of the horrible happening with his creation.
Yellow Arc
He helped Yellow fight against the enemy.
Gold, Silver and Crystal Arc
During the competition that is a battle of two regions namely Kanto and Johto, his secret wounds that isn't known to anyone were healed by Entei.
Anime
Season 1: Indigo League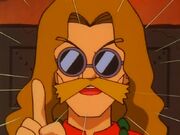 In the anime, Blaine had become disturbed by the fact that Cinnabar Island had become filled with tourists, and no serious trainers. In his disguise, he would give out many riddles to tourists and visitors, including Ash and his friends. With Misty able to figure out many of the riddles, the group found the hidden Gym and figured out that Blaine was in a disguise the whole time. This then led to Ash's gym battle, where he used his Squirtle, Charizard, and Pikachu against Blaine's Ninetales, Rhydon, and the most powerful member of the team, Magmar.
After an incident where Team Rocket endangered the island, and destroyed the Gym, Ash, his friends, and Blaine had to fix the problem, where Charizard and Magmar developed a rivalry.
Blaine allowed Ash to have a rematch with him shortly after, this time over the volcano where the gym was located. Blaine using his Magmar caused Charizard to participate in the battle. After a hard fought battle, Charizard used Seismic Toss on Magmar, ending it. Upon leaving Blaine rewarded Ash with his Volcano Badge.
Sprites
Pokémon
In Games
Red, Blue, and Green
Yellow
Gold, Silver, and Crystal
File:Magcargo(G)Sprite.png
Magcargo
   
File:Magmar(G)Sprite.png
Magmar
  
File:Rapidash(G)Sprite.png
Rapidash
  
[[File:{{{P4}}}_BW.gif|link={{{P4}}}]]
[[]]
  
[[File:{{{P5}}}_BW.gif|link={{{P5}}}]]
[[]]
  
[[File:{{{P6}}}_BW.gif|link={{{P6}}}]]
[[]]
  
Lv. 45

♂

Lv. 45

♂

Lv. 50

♂

Lv. ?
-
Lv. ?
-
Lv. ?
-
Ability: Unknown
Ability: Unknown
Ability: Unknown
Ability: Unknown
Ability: Unknown
Ability: Unknown
Item: ?
Item: None
Item: None
Item: ?
Item: ?
Item: ?
Curse
ThunderPunch
Quick Attack
-
-
-
Smog
Confuse Ray
Fury Attack
-
-
-
Rock Slide
Sunny Day
Fire Spin
-
-
-
Flamethrower
Fire Punch
Fire Blast
-
-
-
FireRed and LeafGreen
HeartGold and SoulSilver
File:Magcargo HGSS.png
Magcargo
   
File:Magmar HGSS.png
Magmar
  
File:Rapidash HGSS.png
Rapidash
  
[[File:{{{P4}}}_BW.gif|link={{{P4}}}]]
[[]]
  
[[File:{{{P5}}}_BW.gif|link={{{P5}}}]]
[[]]
  
[[File:{{{P6}}}_BW.gif|link={{{P6}}}]]
[[]]
  
Lv. 54

♂

Lv. 54

♂

Lv. 59

♂

Lv. ?
-
Lv. ?
-
Lv. ?
-
Ability: Flame Body
Ability: Flame Body
Ability: Flash Fire
Ability: Unknown
Ability: Unknown
Ability: Unknown
Item: ?
Item: White Herb
Item: White Herb
Item: ?
Item: ?
Item: ?
Overheat
ThunderPunch
Quick Attack
-
-
-
Smog
Confuse Ray
Bounce
-
-
-
Rock Slide
Sunny Day
Overheat
-
-
-
Sunny Day
Overheat
Flare Blitz
-
-
-
Rematch
File:TorkoalSprite.png
Torkoal
  
File:Camerupt(HGSS)Sprite.png
Camerupt
   
File:Rapidash HGSS.png
Rapidash
  
File:Magcargo HGSS.png
Magcargo
   
File:Houndoom HGSS.png
Houndoom
   
File:Magmortar(Pt)Sprite.png
Magmortar
  
Lv. 54

♂

Lv. 57

♂

Lv. 60

♂

Lv. 58

♂

Lv. 54

♂

Lv. 62

♂

Ability: White Smoke
Ability: Solid Rock
Ability: Flash Fire
Ability: Flame Body
Ability: Flash Fire
Ability: Flame Body
Item: ?
Item: None
Item: None
Item: None
Item: None
Item: None
Overheat
Eruption
Flare Blitz
Overheat
Flamethrower
Flamethrower
Yawn
Earthquake
Megahorn
Curse
Dark Pulse
Confuse Ray
Sunny Day
SolarBeam
Quick Attack
Gyro Ball
Shadow Ball
Low Kick
Body Slam
Sunny Day
Overheat
Stone Edge
Sucker Punch
Thunderbolt
Black 2 and White 2
Fire-type Tournament

Arcanine
  

Ninetales
  

Charizard
   

Magmortar
  

Flareon
  

Rotom
   
Lv. 50

♂

Lv. 50

♂

Lv. 50

♂

Lv. 50

♂

Lv. 50

♂

Lv. 50
-
Ability: Intimidate
Ability: Flash Fire
Ability: Blaze
Ability: Flame Body
Ability: Flash Fire
Ability: Levitate
Item: ?
Item: Charti Berry
Item: Life Orb
Item: Choice Scarf
Item: Passho Berry
Item: Flame Orb
Overheat
Fire Blast
Flamethrower
Fire Blast
Superpower
Trick
Close Combat
Energy Ball
Air Slash
Psychic
Quick Attack
Overheat
Extremespeed
Psyshock
Focus Blast
Thunderbolt
Overheat
Thunderbolt
Bulldoze
Will-o-Wisp
Dragon Pulse
Rock Slide
Toxic
Pain Split
Kanto Gym Leader Tournament/World Leaders Tournament

Arcanine
  

Ninetales
  

Charizard
   

Magmortar
  

Flareon
  

Rapidash
  
Lv. 50

♂

Lv. 50

♂

Lv. 50

♂

Lv. 50

♂

Lv. 50

♂

Lv. 50

♂

Ability: Intimidate
Ability: Flash Fire
Ability: Blaze
Ability: Flame Body
Ability: Flash Fire
Ability: Flash Fire
Item: ?
Item: Charti Berry
Item: Dragon Gem
Item: Petaya Berry
Item: Salac Berry
Item: Shuca Berry
Flare Blitz
Heat Wave
Inferno
Fire Blast
Flame Charge
Flare Blitz
Wild Charge
Energy Ball
Dragon Rush
Psychic
Superpower
Megahorn
Close Combat
Hypnosis
Focus Blast
Thunderbolt
Flail
Wild Charge
Extremespeed
Nasty Plot
Hone Claws
Focus Blast
Yawn
Hypnosis
Pokémon Stadium
Gym Leader Castle
Gym Leader Castle Round 2
Pokémon Stadium 2
Gym Leader Castle
File:NinetalesHeartGoldSoulSilver.png
Ninetales
  
File:Parasect(HGSS)Sprite.png
Parasect
   
File:Rapidash HGSS.png
Rapidash
  
File:Flareon(HGSS)Sprite.png
Flareon
  
File:Magcargo HGSS.png
Magcargo
   
File:Octillery(DP)SpriteMale.png
Octillery
  
Lv. 50
-
Lv. 50
-
Lv. 50
-
Lv. 50
-
Lv. 50
-
Lv. 50

♀

Ability: Unknown
Ability: Unknown
Ability: Unknown
Ability: Unknown
Ability: Unknown
Ability: Unknown
Item: ?
Item: Quick Claw
Item: Kings Rock
Item: Miracle Berry
Item: PRZCureBerry
Item: Focus Band
Sunny Day
SolarBeam
Agility
Shadow Ball
Sunny Day
Octazooka
Fire Blast
Sunny Day
Stomp
Take Down
Rock Slide
Psybeam
Dig
Slash
Sunny Day
Fire Blast
Earthquake
Ice Beam
Quick Attack
Giga Drain
Fire Blast
Sunny Day
Fire Blast
BubbleBeam
Gym Leader Castle Round 2
File:HGSSArcanine.png
Arcanine
  
File:Vileplume HGSS.png
Vileplume
   
File:Clefable(HGSS)Sprite.png
Clefable
  
File:HGSSChansey.png
Chansey
  
File:Mr. Mime HGSS.png
Mr. Mime
  
File:146moltres.png
Moltres
   
Lv. 50
-
Lv. 50
-
Lv. 50
-
Lv. 50

♀

Lv. 50
-
Lv. 50
-
Ability: Unknown
Ability: Unknown
Ability: Unknown
Ability: Unknown
Ability: Unknown
Ability: Unknown
Item: ?
Item: Quick Claw
Item: Focus Band
Item: Miracle Berry
Item: Scope Lens
Item: Focus Berry
Sunny Day
SolarBeam
Fire Blast
Counter
Fire Punch
Wing Attack
Fire Blast
Sunny Day
Moonlight
Fire Blast
SolarBeam
Sunny Day
ExtremeSpeed
Synthesis
Sunny Day
SolarBeam
Sunny Day
Steel Wing
Roar
Sludge Bomb
SolarBeam
Sunny Day
Psychic
Fire Blast
Anime
On hand
Pokémon
Information
Ninetales was the first Pokémon Blaine used in his Gym Battle with Ash. It easily defeated his Squirtle with Fire Spin.
Ninetales
Pokémon
Information
Rhydon was the second Pokémon Blaine used in his Gym Battle with Ash. It won against Ash's Charizard when it left the ring but lost to Pikachu when it shocked its horn like a lightning rod.

It should be noted that some Rhydon possessed the ability to use Lightning Rod and that all of them were immune to Electric attacks. However Ash's battle with Blaine took place before special abilities were created.

Rhydon
Pokémon
Information

Magmar is Blaine's last, and most powerful, Pokémon. It gave Ash's Pikachu quite a beating before Ash forefit. When Team Rocket froze the volcano Magmar had to clog up a lava flow from the inside. After receiving help from Charizard, it wanted to see how strong it can be so Blaine challenged Ash to a rematch where Ash won the Volcano Badge. Its known attacks are Fire Punch, Fire Blast and Skull Bash.
Magmar
In Manga
On Hand
Released
Voice Actors
Videos
Main article: Blaine/Video
male c