"
Hah! I'm Blaine, the red-hot Leader of Cinnabar Gym! My fiery Pokémon are all ready with intense heat! They incinerate all challengers! Hah! You better have Burn Heal!
"

–Blaine, Pokémon FireRed and LeafGreen
Blaine (Japanese: カツラ Katsura) serves as the seventh Gym Leader at Cinnabar Island's Gym. He specializes in using Fire-type Pokémon and gives the Volcano Badge to the trainers able to defeat him.
BiographyEdit
Blaine first appeared in the Generation I games as the Cinnabar Island Gym Leader. Before actually getting inside Blaine's Gym however, the player must find the Secret Key to unlock the Gym's door, which is located in the Pokémon Mansion next door. His Gym was filled with quiz machines that unlocked the doors leading up to him. If the player answers incorrectly, they are forced to battle a Gym member.
In the Generation II games, the volcano on Cinnabar Island has erupted forcing Blaine to relocate to the Seafoam Islands. In the Generation III remakes, Blaine is again the Cinnabar Gym Leader, with an updated appearance.
Main article: Blaine (Adventures)
Red, Blue, Green ArcEdit
He used to be with Team Rocket and is also the person who created Mewtwo but he quit Team Rocket because of the horrible happening with his creation.
Yellow ArcEdit
He helped Yellow fight against the enemy.
Gold, Silver and Crystal ArcEdit
During the competition that is a battle of two regions namely Kanto and Johto, his secret wounds that isn't known to anyone were healed by Entei.
Season 1: Indigo LeagueEdit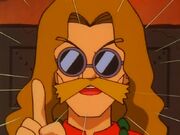 In the anime, Blaine had become disturbed by the fact that Cinnabar Island had become filled with tourists, and no serious trainers. In his disguise, he would give out many riddles to tourists and visitors, including Ash and his friends. With Misty able to figure out many of the riddles, the group found the hidden Gym and figured out that Blaine was in a disguise the whole time. This then led to Ash's gym battle, where he used his Squirtle, Charizard, and Pikachu against Blaine's Ninetales, Rhydon, and the most powerful member of the team, Magmar.
After an incident where Team Rocket endangered the island, and destroyed the Gym, Ash, his friends, and Blaine had to fix the problem, where Charizard and Magmar developed a rivalry.
Blaine allowed Ash to have a rematch with him shortly after, this time over the volcano where the gym was located. Blaine using his Magmar caused Charizard to participate in the battle. After a hard fought battle, Charizard used Seismic Toss on Magmar, ending it. Upon leaving Blaine rewarded Ash with his Volcano Badge.
Red, Blue, and GreenEdit
Gold, Silver, and CrystalEdit
FireRed and LeafGreenEdit
HeartGold and SoulSilverEdit
Black 2 and White 2Edit
Gym Leader Castle
Stadium 2Edit
Gym Leader Castle
Pokémon
Information

Ninetales was the first Pokémon Blaine used in his Gym Battle with Ash. It easily defeated his Squirtle with Fire Spin.

Ninetales
Pokémon
Information

Rhydon was the second Pokémon Blaine used in his Gym Battle with Ash. It won against Ash's Charizard when it left the ring but lost to Pikachu when it shocked its horn like a lightning rod. It should be noted that some Rhydon possessed the ability to use Lightning Rod and that all of them were immune to Electric attacks. However, Ash's battle with Blaine took place before abilities were introduced.

Rhydon
Pokémon
Information

Magmar is Blaine's last, and most powerful, Pokémon. It gave Ash's Pikachu quite a beating before Ash forfeit. When Team Rocket froze the volcano Magmar had to clog up a lava flow from the inside. After receiving help from Charizard, it wanted to see how strong it can be so Blaine challenged Ash to a rematch where Ash won the Volcano Badge.

Magmar
Pokémon OriginsEdit
Pokémon
Information

This section is blank. You can improve the Pokémon Wiki by editing this template.

Arcanine
Episode appearancesEdit
Voice ActorsEdit
In the anime series except Pokémon Origins, Blaine has hair and no facial hair, but in the games, he's completely bald and has a mustache.